One Day Komodo Island Tour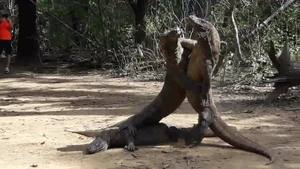 ONE DAY KOMODO ISLAND TOUR
In One day Komodo Island Tour on Komodo Island, you can choose between different trekking routes, depending on your time and physical condition. All of them start from the ticket office at Loh Liang. A short trek takes around one hour and goes along flat trails within the dry forest. This option is suitable for visitors who do not have much time, for families with small children, or for people who prefer a relaxed and non-strenuous hike. The medium trek takes about 1 1/2 hours. It passes a waterhole where the Timor deer and wild pigs often come to drink. Sometimes, dragons can be found there lying around and waiting. You will climb Sulphurea Hill and Fragata Hill, where a magnificent view across the islands, bays and beaches awaits. The longer trek takes about 2 1/2 hours and leads you up another hill. You will pass the location where Komodo dragons used to be fed in front of enthralled tourist crowds. If you are up to a real workout, you may book a 4 – 8 hour hike in advance which will lead you up Mount Ara or to the island's northern shore.
One day Komodo Island Tour to see the dragons a totally awesome adventure as they are now no longer kept in an enclosure but free to roam and hunt for food anywhere they please. The experienced and well trained park rangers will take you on a hike through the bush lands of Komodo Island for the experience of a lifetime.
ITINERARY
ONE DAY KOMODO ISLAND TOUR (L).
05:30: Transferred to harbor.
06:00: Get on a Komodo Dragon Boat to Komodo Island.
10:00: Trekking on Komodo Island to see the activities of Komodo Dragons in their pure environment. During your time there, you will be guided by local guide called Ranger.
12:30: Transferred to Pink Beach, (lunch will be served on board).
13:00: Swimming and snorkel in Pink Beach.
14:00: Back to Labuan Bajo.
18:00: Transferred to your hotel (end program).
PRICE NETT PER PAX
1 – 3 PAX: USD 336.
4 – 5 PAX: USD 112.
6 – 8 PAX: USD 89.
Price: USD 336.00
Check Availability