Komodo Island Tour 2D1N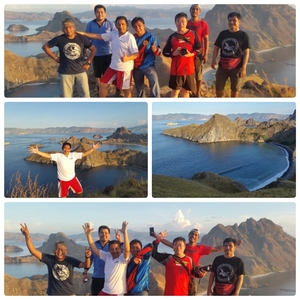 KOMODO ISLAND TOUR 2D1N
Komodo Island Tour 2D1N is a tour package that gives you guarantee see the Komodo dragon (Varanus komodoensis) that is the world's largest and also one of the oldest living lizards. This reptile can only be found in the wild in Komodo National Park (more precisely on the islands of Komodo, Rinca Island, Nusa Kode, and Gili Motang) and to a minor extent on Flores' west and north coasts. Adult dragons can reach a length of up to three meters, with an average weight of around 90 kg. Living mainly on carrion, the dragons also hunt deer and wild pigs, using their strong tail to bring the prey to the ground.
Komodo Tour 2D1N Treks
On Komodo Island, you can choose between different trekking routes, depending on your time and physical condition. All of them start from the ticket office at Loh Liang. A short trek takes around one hour and goes along flat trails within the dry forest. This option is suitable for visitors who do not have much time, for families with small children, or for people who prefer a relaxed and non-strenuous hike.
The medium trek takes about 1 1/2 hours. It passes a waterhole where the Timor deer and wild pigs often come to drink. Sometimes, dragons can be found there lying around and waiting. You will climb Sulphurea Hill and Frigate Hill, where a magnificent view across the islands, bays and beaches awaits. The longer trek takes about 2 1/2 hours and leads you up another hill. You will pass the location where Komodo dragons used to be fed in front of enthralled tourist crowds.
Treks on Rinca Island start from the ticket office at Loh Buaya. You also have the option to choose between three trails. The shortest trek takes 30 minutes. It is an easy, shaded walk that passes an artificial waterhole before ascending to a small hill with a view over the bay. The one-hour medium trek winds between dragon nests and out into the sunshine across an exposed savannah that is studded with lontar palms. For the best opportunity to see dragons and their prey, choose the two-hour trek past a permanent waterhole and across steep, exposed slopes that offer breathtaking views.
KOMODO TOUR 2D1N ITINERARY
Day 01 LABUANBAJO -RINCA- PINK BEACH (L/ D).
07:30 : Pick up from the airport or your hotel in Labuan Bajo, transfer to harbor
08:00 : Get on our vessel/Boat Trip to visit Rinca island
10:30 : Trekking at Rinca island to see the activities of Komodo dragons and their nest in their pure environment.
12:00 : Depart to Pink Beach (Lunch on boat)
14:30 : Snorkeling and swimming at Pink Beach
15:30 : Transfer to Komod0 Island
16:00 : Trekking at Komodo Island for the second chance to see activities of Komodo Dragons in their pure environment.
17:30 : Back to boat to Kalong island for Sunset and Overnight..
Day 02 KOMODO-MANTA RAY-KANAWA ISLAND- BIDADARI ISLAND-LABUANBAJO
07:00 : After breakfast transfer to Manta Ray spot at Makassar Reef
09:30 : Swimming and snorkeling (Capt will decide whether you can snorkeling or not, depending on the condition of the current)
11:30 : Transfer to Kanawa Beach island (lunch on board)
14:00 : Arriving at Kanawa Beach Island. Snorkeling and swimming there.
16:30 : Back to Labuan Bajo
17:00 : Transferred to your hotel (end program)
PRICING (nett per pax)
1 – 2 pax: USD 649
3 pax: USD 251
4 pax: USD 189
PRICE INCLUDES:
Pick up service, all meals and drinks as per ititnerary, Private Boat Trip, Snorkeling Gears.
PRICE EXCLUDES:
Personal expenditure such as laundry, phone calls, tips and alcoholic drinks, Komodo Entry Tickets (around US$ 25 /person).
Validity up to 31 April 2017
Price: USD 649.00
Check Availability